✰ At Basic Wedding Rings we know the struggle with online shopping and the need to try before you buy. So next to our complimentary 3D dummy models, we exclusively provide you with the possibility to virtually try-on your favorite design in the configurator! Jewelsee3D enables you to take a picture of your hand with your mobile phone and within 24 hours* your custom designed ring will be magically visible on your finger as if you were looking into a mirror.  ✰
JewelSee3D is also available for our other ring collections. Just send us a message via the form on the custom-made page and skip step 2 and 3 below (see step 1 and 4).
Step 1
Place your hand on a flat surface, with your palm facing downwards, and take a picture using your phone.
Make sure there is enough light for a clear image and that your photo matches the example below (the same applies to your right hand) to make sure that we can process your request!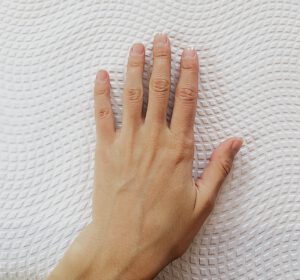 Step 2
Send the photo to us using the link in the final step of the ring configurator by selecting 'JewelSee3D: virtual try-on tool.' An overview of your request with all the details of your personally designed ring will be added to your shopping cart.
Step 3
Complete your request in the same way that you would place an order. Fill in your contact details (don't forget your telephone number and email address), select "Place order" and receive your custom designed ring on your own hand via your preferred method within 24 hours!*
Please state your preferred method of receiving your photo (WhatsApp or e-mail) in the order notes under contact details.
Step 4
Please note: This step is only applicable to ring collections and custom-made designs not part of the configurator.
Send us your photo by filling in the form on the custom-made page. Please let us know in the message section which ring you would like to see on your finger by stating the name of the ring and the color (e.g. solid white gold 14k beaded stackable ring) and be sure to fill in your phone number or your e-mail so we know your preferred method of receiving your design. 
Should you wish to see your ring on a finger other than your ring finger, please also mention this in your message.

Whichever way you choose to try before you buy, after your personal seal of approval we will proceed to make your Basic beauty come to life!
*Requests sent on Friday or during the weekend will be processed the following monday.