The difference between gold plated, hollow and solid gold? We list the differences below!
When purchasing a piece of jewelry, it is not clear at first sight what type of gold it is. This may not seem important if you can't see it, but it has a lot of influence on the lifespan of your jewelry.
Gold plated jewelry has another core such as silver or precious metal and is covered with a thin layer of gold. After regular wear the layer will eventually wear off, revealing the stainless steel or silver bottom layer. The jewelry will then have to be re-gilded. The lifespan of gold plated jewelry is also not very long. Solid gold on the other hand, is designed to last a lifetime.
A hollow piece of jewelry is made of gold, only its core is not filled, which makes it considerably lighter. A solid gold piece of jewelry is filled to the core with 14 or 18 carat gold. This has several advantages such as that it does not discolor, always retains its value and lasts a lifetime until you pass it on to the next generation.
We only use solid 14 and 18 carat gold in our collections. This makes our jewelry both timeless and durable. Our white gold jewelry is also rhodium plated, which gives an extra layer of white shine and is therefore less likely to scratch.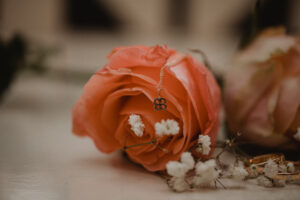 A marriage is forever, and so are the wedding rings and matching jewelry that go with it. We do not compromise on the price/quality of our items. Our materials and suppliers are carefully chosen to remain affordable, but only of the best quality.
Design your ring in the configurator or discover beautiful matching jewellery!