The Big Question: How Do I Find The Perfect Ring Size?

We understand that knowing the exact ring size of yourself or your loved one can be challenging. Below we share the most effective ways to find out.
✰ Measure an existing ring.
✰ Use a complimentary ring sizer – available to order or print online.
And a few extras, as we know the struggle to buy a ring online without being able to try it on:
✰ Complimentary 3D Dummy Ring
✰ New and exclusive at Basic Wedding Rings: JewelSee3D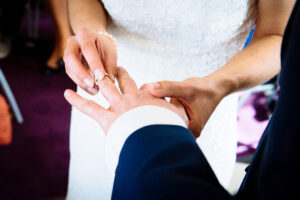 An easy way to determine your ring size is to measure an existing, well-fitting ring. By placing your ring on a ruler you can determine the exact inner size in millimeters. Measure the diameter of the inside of the ring (so do not include the edge). The number of millimeters is the ring size. You can convert this measurement to your EU ring size using our overview in the table in our
Size Guide
.
Tip: If you are in between sizes, please order the nearest smaller size.
Please keep in mind that you should measure the ring for the correct finger. If you don't wear the existing ring on the same finger, or even on the same hand, the size will differ. In this case it is advised you use our ring sizer to measure the correct ring size.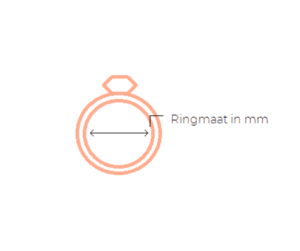 The Complimentary Ring Sizer
Our complimentary ring sizer is the most accurate way to determine your ring size. We offer this service to ensure that your custom-made and matching rings are the perfect fit, meaning no need for resizing (check out our resizing guarantee
here
). You can either choose to 
order a ring sizer
or
download
the print-out version, both from the comfort of your own home.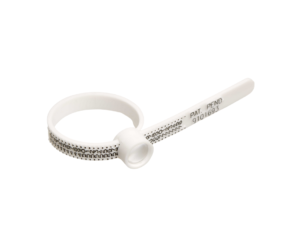 Choosing The Perfect Ring Size

Some important points to keep in mind when measuring your ring size
✰ A wider ring feels tighter. We recommend that you measure an existing ring that corresponds to the ring width you want to order.
✰ When measuring your ring size, take temperature into account. In warm weather the fingers can swell a bit and in cold weather they contract. Your fingers are often slightly swollen in the evening. We recommend that you measure your ring size at several moments during the day to be sure of the correct size or when your hands are at a moderate temperature.
✰ A wider knuckle may require a tighter ring that is somewhat difficult to push over the knuckle but will fit comfortably on the base of your finger.
✰ A ring should fit comfortably so that, after initially putting it on, you no longer feel it. It should not be tight or restrictive, nor should it be too loose to risk it falling off.
JewelSee3D

JewelSee3D is an amazing new way of trying on jewelry. This try before you buy option gives you the possibility to try on your ring designed in the configurator from the comfort of your own home! Share your creation with your friends, family or your let your fiancé get a glimpse of your bespoke piece. You will receive receive the image(s) via email or Whatsapp!
Curious? Read all about JewelSee3D here.
Complimentary 3D Dummy Ring 

For all of the rings designed in the configurator and all custom-made designs, we also offer a free 3D dummy of your design so that you can try on your ring in advance, before placing the order. This way, you can be assured of the perfect fit! 

If you have any questions regarding choosing the perfect ring size, please contact us.